Priest/Retreat Leader Bedroom (Sleeps up to 3 people)

This bedroom is a private bedroom with it's own full bath. The room can be closed off to the rest of the second floor. It has it's own private entrance to the first floor common areas. Perfect for Priests or a retreat leader that needs privacy. The room can hold up to three in case it is needed to house retreatants instead. The room has a double bed with single bunk overhead.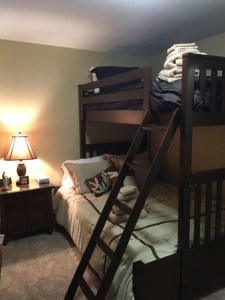 Single Bunk Room (Sleeps up to 8 people)

While not designated just for teens, this room is great when you have a large retreat of teenagers. An ample setting for Men's or Women's retreats.  The room has 4 single bunk beds giving retreatants space in between each bed for personal items and bags.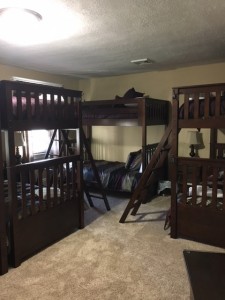 Double Beds with Bunks (Sleeps up to 6-9 people)

These rooms are the perfect setting for silent retreats, couple retreats or for those who want a little more privacy. Each room has two to three double beds with single bunks overhead.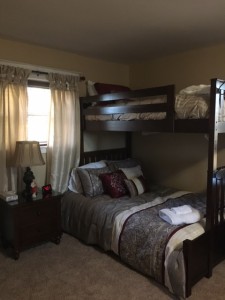 It is up to the individual retreat leader to assign the retreatants to a bedroom. A form will be emailed once you book the Retreat Center.
There are four showers available to retreatants on the second floor.