From 1920 to 1979:   The Early Era
The lovely Georgian-style mansion at 61 East High Street was built in 1920 as a private home for the J. C. Caflisch family of Union City. It remained a private home for many years until it was converted to a nursing home, and later into a home for troubled boys.
Then in 1979, Jack Zimmerly, the owner of the home, deeded the property to the late Msgr. James W. Peterson, who was the pastor of Saint Teresa of Avila Catholic Church in Union City, with the understanding that he would take over the mortgage. Mr. Zimmerly had great hope that it would always be used for a Christian purpose.
From 1979 to 2013:  The Avila House
In 1979, Msgr. Peterson took possession of 61 East High Street and named the house "Avila House" after the hometown of St. Teresa in Avila, Spain. Avila House was originally incorporated under Maria House Project, and later incorporated under Avila House, Inc. With the help of Sr. Maria O'Connor of the Sisters of Mercy, Msgr. Peterson opened Avila House as a retreat center.
Avila House Retreat Center was a special place for Msgr. Peterson to conductretreats for both men and women, especially the men in a program called "Maria House Project".   Msgr. Peterson founded Maria House Project, an outreach program for the rehabilitation of men recovering from addictions, incarceration, homelessness, mental and emotional illness, war and isolation.  Msgr. Peterson has always called the center "a blessing for the whole area", and that the Gospel spreads a tremendously important message.  Msgr. Peterson also said "For a real change, for real conversion in one's life, you often need time away to get more in touch with God's presence, power, and grace." The Avila House Retreat Center provided such a place for these men and many others over the past 37 years.
The late Msgr. Peterson was Fr. Larry Richards' Spiritual Director for over 30 years and, just before Msgr. Peterson died in 2013, he asked Father Larry to continue his work in bringing people to Christ through his Retreat Center.  Msgr. Peterson's vision coincided with the mission of Fr. Larry's Foundation, The Reason for Our Hope Foundation, which was is to spread the Good News of Jesus Christ and His Church.   Following Msgr. Peterson's death on May 13, 2013, the feast day of Our Lady of Fatima, the Avila House was donated to The Reason For Our Hope Foundation.
2015 to the Present:  Hope House Retreat Center
Beginning in February, 2015, renovations began at the Avila House. With over 100 volunteers who donated over 5,000 hours of service, we were able to create a beautiful chapel known as Avila Chapel, and complete renovations to the entire first floor.  The name was changed from Avila House to Hope House Retreat Center in order to make it clear that this is a place of hope and that it is now a part of The Reason For Our Hope Foundation.  The slide show below shows the transition beginning in February, 2015.
The doors to the Hope House Retreat Center were officially opened on December 5, 2015 and the first retreat was held on January 30, 2016. The essence of the house is not these physical aspects and renovations that have been completed, but rather its spiritual nature. Hope House Retreat Center was originally defined in an old Avila House brochure as a "place that exists so that people who believe may see Jesus and know His presence and His power more deeply in their lives. It promises all who come only the chance to have some peaceful quiet, some simple but good meals, some room to breathe, and the opportunity to let the Holy Spirit lead where He always does – to the Risen Lord Jesus." For those who have passed through the doors in the past, the Retreat Center has done just that and will continue to provide a beautiful, spiritual place to continue this opportunity into the future.  It has been described by volunteers as a "warm, nurturing place." People have often echoed "Once you have been here, you find yourself coming back year after year."   The Lord has given us this gift of the Avila House, so that His goodness can flow into the lives of those who come through the doors of the Hope House Retreat Center.
Founder of Avila House Retreat Center:  Msgr. James W. Peterson (1923 – 2013)
Of great significance to the Hope House Retreat Center is the late Msgr. James W. Peterson, who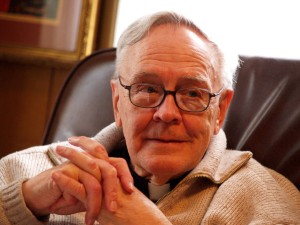 was the founder of Avila House Retreat Center in 1979.  He was born on November 14, 1923, a son of the late Cornelius J. and Gertrude Ward Peterson. Msgr. Peterson attended St. John's Parochial School, Erie, Cathedral Prep and Gannon College, Erie, Saint Mary's Seminary in Baltimore, Catholic University in Washington, D.C. and did further graduate work at Western Reserve University and Notre Dame. He was ordained to the Roman Catholic priesthood on May 15, 1947 by Bishop John Mark Gannon. Msgr. Peterson's first assignment was to Blessed Sacrament Church, Erie, and then to Gannon College from 1947-1975. While at Gannon, he taught English for seven years and was appointed Director of Religious Activities and Chairman of the Theology Department. He was also a resident Chaplain at Wehrle Hall and Moderator of the Saint Thomas More Club.
Msgr. Peterson served as Chaplain at the Erie County Prison and as Diocesan Vocations Director and was instrumental in bringing to Erie the Christian Family Movement, the Foundation for International Cooperation, the Serra Club, and the Cursillo Movement. He was also Spiritual Director at Saint Mark's Seminary.
In 1975, Msgr. Peterson was named pastor of St. Teresa of Avila Parish in Union City. In addition to his pastoral work, he founded Maria House Project, a non-profit corporation which continues to provide small group living for men in need of growth in community for healing from drug and alcohol addiction, from the effects of imprisonment, and from homelessness. In 1979, Msgr. Peterson established the Avila House Retreat Center in Union City and held retreats there for over 30 years.
In 1985, Msgr. Peterson took up residence at St. Stephen of Hungary Church, Erie and was assigned to special ministry to the marginalized. In this capacity, he worked in Catholic Charities, especially in Spiritual Counseling. He served as the head of the Diocesan Office of Special Ministries and Trustee of Maria House Project, which included six houses with thirty to thirty-five residents, and the Greg Leopold Prayer Center.
From 1992-1995 he served as chaplain to the Carmelite Sisters at the Holy Family Monastery, Erie. For many years he was chaplain at the Erie County Prison and continued visiting inmates on a regular basis until his passing in the spring of 2013.  He was well known as a lecturer, retreat director, spiritual director, and friend to the almost friendless. He authored several books including "Leisure of the Holy Spirit," "More I Could Not Ask," and "The Sweep of Saint John's Gospel."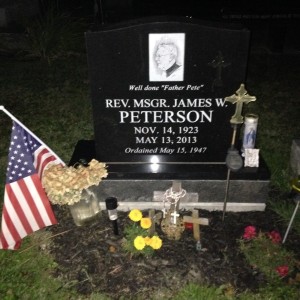 Msgr. Peterson enriched and enhanced the human experience of thousands of lives. His life work has had a profound impact on people from all walks of life in the Union City area and beyond. Msgr. Peterson was honored and awarded throughout his 63 years as a priest many times; however, one honor that stands out occurred in July of 1994 when Pope John Paul II bestowed upon him the title "Chaplain of His Holiness."
On May 13, 2013, at the age of 89, Msgr. James W. Peterson passed away.  Msgr. Peterson is buried in St. Teresa's Cemetery in Union City.  His legacy lives on as the Hope House Retreat Center continues to hold retreats and bring people to know Christ through a retreat experience.   Father Peterson once said, "If this is the work God wants, He will supply what I need."   Just as Msgr. Peterson always believed and trusted, God continues to supply all that we need at the Hope House Retreat Center.
Fr. Larry Richards, Founder of The Reason For Our Hope Foundation

Fr. Larry Richards has been a priest since 1989 for the Diocese of Erie, Pennsylvania and he currently serves as pastor of St. Joseph Church/Bread of Life Community in Erie.  In 2004 Father founded The Reason For Our Hope Foundation, a non-profit organization dedicated to "spreading the Good News" by educating others about Jesus Christ and the Catholic faith through CDs, DVDs, and books.  He is the author of  two books:  "Be a Man! Becoming the Man God Created You to Be" and "Surrender! The Life-Changing Power of Doing God's Will." Father released a Catholic Men's Bible, NABRE, and also a Scripture Devotional Calendar entitled "No Bible, No Breakfast! No Bible, No Bed!"   Father hosts the EWTN radio show called "The Reason For Our Hope," and a live EWTN radio show called "Open Line."   Fr. Larry also hosts a radio show, called "Changed Forever with Father Larry Richards",  that can be heard nationwide on Relevant Radio.
The late Msgr. Peterson was Fr. Larry's Spiritual Director for over 30 years and, just before Msgr. Peterson died in 2013, he asked Fr. Larry to continue his work in bringing people to Christ through his Retreat Center.   Fr. Larry has directed hundreds of Retreats, Parish Missions and Conferences for young and old alike for over 25 years, and he has always said that the most effective way of bringing someone to Jesus is through a retreat experience.  So what Msgr. Peterson was asking Fr. Larry to do was at the very core of his personal belief.  Fr. Larry founded The Reason For Our Hope Foundation in answer to 1 Peter 3:15:  "Always be ready to give an explanation to anyone who asks you for a reason for your hope."   The purpose of the Foundation is to fulfill the command of Christ to "go and make disciples of all nations" (Matthew 28:19).  Msgr. Peterson's vision coincides with the mission of The Reason for Our Hope Foundation, and Fr. Larry has made a commitment to continue to provide a beautiful retreat center for the future.  Fr. Larry and his staff at The Reason For Our Hope Foundation will be responsible for the Hope House Retreat Center so that all those who pass through the doors may come to know Jesus Christ in a personal way, and have hope in Jesus Christ as reflected in Hebrews 6:19:  "We have this Hope as an anchor for our soul, firm and secure."